Power Trips, the travel guide to Mother Earth's sacred places, was a magazine published by Cedar Cottage Media from June, 1997 through July, 1999, taking readers on pilgrimages to sacred sites and places of power, such as Stonehenge, Machu Picchu, the Great Pyramids, Uluru, Glastonbury, Sedona, Newgrange, Mount Kailash, Callanish, Tiahuanaco and Mount Shasta. Its editor and publisher was Robert Scheer.
In addition to those better-known power sites on our planet, there are thousands more stone circles, holy wells, sacred groves, mountain tops, pyramids, caves, shrines, megaliths, ancient pilgrimage and vision quest sites where we and our ancestors have been going for thousands of years.
Power Trips magazine sought out visions, prophecies, healing, answers to important questions and more meaning for our lives, based on the premise that Mother Earth's sacred places can give us answers, if we will only learn how to listen.
Back Issues For Sale
Although Power Trips magazine has now ceased publication, a limited numbers of back issues are still available to order from this page. Price per back issue is US$9.97 (including postage and handling).  Sales are via PayPal, so you can pay securely online with any major credit or debit card. You do not need to have a PayPal account.
---
Issue #1 – June/July, 1997
Will Stonehenge Become A £163.65 Million Theme Park?
Major changes have been planned for the world's most famous stone circle.
Texas Power Spot Bulldozed
How a sacred place held a mysterious attraction for a Texas businessman.
Exploring BC's Stein Valley
Our search for powerful rock paintings is delayed by snow, mudslides and a train wreck.
A Goddess Tour of Crete by Nancy Bakas
"Finding A New Me With The Minoan Sisterhood."
Book Review – Entering The Circle by Olga Kharitidi, M.D.
A Russian psychiatrist discovers ancient secrets in Siberia.
England's Dragon Project
How you can volunteer to sleep – perchance to dream – at sacred sites in Cornwall.
How To Discover The Meaning Of Life And Enjoy Genuine Happiness
The creator of Power Trips magazine, Robert Scheer, reveals the philosophy behind his new publication.
Back issue price (including shipping) $9.97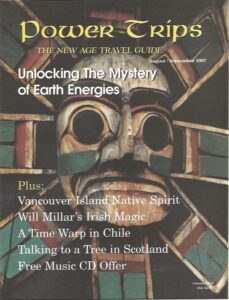 Issue #2 – August/September, 1997
Unlocking the Mystery of Earth Energies
Henry Dorst teaches how to locate energy grids in a project to heal our injured planet
Ancient Rock Carvings on Vancouver Island
Nanaimo's Petroglyph Park gives you easy access to first nations spirituality
Will Millar's Irish Magic
The former "Irish Rovers" folk singer and storyteller talks about Newgrange, Balllymena, Ballycastle and more
A Time Warp in Chile
An upsetting story about human sacrifice in the Atacama desert
Talking to a Tree in Scotland
How a visit to Findhorn helped one woman come to terms with her own mortality
Back issues sold out
---
Issue #3 – October/November, 1997
The Healing Power of Earth Energies
Why holy wells and healing stones actually do work miracles
Ancient Megaliths and Holy Wells of Brittany
There are thousands of prehistoric standing stones and scores of holy wells in Celtic Northwestern France
Tommy Makem's Secret Ireland
A review of the beloved Irish folksinger's book about his favourite places
Sacha Runa: Spirits of the Rainforest
Meet an Amazon shaman in his Peruvian jungle camp
A Pilgrimage to Sedona
Leonard and Nancy Becker describe their personal experiences with the healing power of Arizona's magical red rocks
How to Hear Messages from Sacred Places
Christine Thomas reveals how she holds conversations with ancient megaliths
Tommy Makem's Journey to Newgrange
The Irish folksinger experiences Winter Solstice inside the 5,000 year old passage tomb
Cover photo: In Brittany, crosses were added atop ancient stones, beginning in about the 6th century.
Photo courtesy of the French Tourist Board
Back issues sold out
---
Issue #4 – December 1997/January, 1998
Blackfoot Medicine Wheel
It's so fragile that maybe we shouldn't even disclose where you can find it in southern Alberta, Canada.
The Spiritual Value of Land
Dr. David Suzuki explains why our attitude about real estate is leading us into an ecological crisis.
How to Buy an Ancient Stone Circle
John Attwood reveals what happens when one of England's famous megalithic sites came up for sale.
The Legend of Avebury's Healing Stones
A Canadian nurse tells how they helped three people who suffered from serious illnesses.
A Wellness Retreat in the Mayan Jungle
The southeast Yucatan coast is largely undeveloped, yet it's rich with ancient temples and an eco-resort.
The Mystery of the Crystal Skulls
Native legends say they hold an important message for the world.
Western Journeys
A 32,000 km trek across British Columbia, Alberta and Yukon
Spirit Medicine
Native American teachings on how to awaken the spirit
Tours for Women Only
Go river rafting in Utah or drink from holy springs in England
Cover photo: the Mayan temple of Xpuji'l near Bacalar in Mexico's Yucatan
Back issues sold out
---
Issue #5 – February/March, 1998
The Oldest Buildings Still Standing on Earth
6,000 year old temples on Malta give us insights into an idyllic society, without any weapons nor warfare
Talking to Leprechauns
They're real and they have an important message for humans, says spiritual consultant and tour leader Tanis Helliwell
The Secret Life of Nature
Peter Tompkins, author of The Secret Life of Plants, gives us a new set of keys to unlock the ancient mysteries of the universe
Life-Changing Energies of Mystical Machu Picchu
Mark Amaru Pinkham and Andrea Mikhana Pinkham share their experiences at Earth's most powerful yin vortex
Save Our Sacred Sites
What we can do about the epidemic of vandalism that is destroying ancient megaliths, by Clare Prout
My Gift of Enlightenment from the Boscawen-un Stones
A shamanic journey into another dimension, by Dr. Nanci Shandera
Did Pagan Rites Cause an Earthquake?
Andy Norfolk witnessed an earthshaking event at Boscawen-un
Cave of the Bear Goddess
Cheryl Straffon and Caeia March found the Goddess Artemis sculpted by Mother Nature in the northwest of Crete
Tour News
Spiritual journeys to Ireland, Peru, India, Egypt and more
Cover: Mnajdra temple courtesy of the National Tourism Organization, Malta
Back issues sold out
---

Issue #6 – April/May, 1998
A Vision Quest on Easter Island
Excerpts from Places of Peace and Power by Martin Gray reveal the mysterious visions which led him to visit over 600 sacred sites in more than 40 countries in 12 years.
Dr. Jean Shinoda Bolen
In an exclusive interview, the author of Crossing to Avalon , Goddesses in Every Woman, and Close to the Bone talks about pilgrimages and how they can help heal serious illnesses.
Celebrating with the Elemental Beings of New Zealand
Tanis Helliwell, author of Summer with the Leprechauns, describes meeting the beings known by Maori elders as Children of the Mist, and the magical gift they manifested for her.
Koya-San, Japan's Sacred Mountain
Graham Simmons investigates Japan's largest temple complex, founded in 817 c.e. by a Buddhist monk who may still be alive!
Prehistoric Henge Found in England
Beneath the Stanton Drew stone circle is a wooden temple which predates the Great Pyramid at Giza by more than 1,000 years.
Book Review – The Way It Is
Shoshone leader Corbin Harney suggests ways we can help save Mother Earth.
Book Review – The Return of the Serpents of Wisdom
Mark Amaru Pinkham relates the history and significance of ancient esoteric wisdom..
Martin Gray's Planetary Acupuncture
A meditative technique you can use to deepen your connection with the living Earth..
Tour News
Opportunities for you to experience sacred places on a pilgrimage with kindred spirits, organized and guided by professionals and spiritual leaders.
Back issue price (including shipping) $9.97

Issue #7 – June/July, 1998
Standing Stones of Orkney, Scotland
One of Martin Gray's "Places of Peace and Power" is the Stenness group of standing stones in the Orkney Islands

Martin Gray's Journal – Palenque, Mexico
Our first report from his pilgrimage through Latin America finds Martin Gray at an ancient Mayan pyramid
Sacred Places of Iona and Lewis
Magic is alive on Scotland's western islands, and Helene A. Shik knows where to find it.
Marca Huasi, Shangri-La of the Andes
Jerry Wills has seen sculptures that may be more than 10,000 years old, and even more startling discoveries!
Meeting the Challenge of Tibet's Mt. Kailash
Christine Tice describes her trek to a "living mandala" that has been attracting pilgrims for 15,000 years
Book Reviews
Sacred Britain by Martin Palmer and Nigel Palmer, and Pagan Cornwall Land of the Goddess by Cheryl Straffon
A Pagan Worships at Stonehenge
Performing a ritual within the world's most famous stone circle gave new insights to Clare Prout.
The Legendary Whalers' Shrine of Yuquot
Powerful and controversial magic from Vancouver Island is now the focus of international negotiations

Fairy Fossil Found in Stone Wall
Discovered when a falling tree broke open a stone wall
Cover photos: Stones of Stenness, Orkney, Scotland by Martin Gray, and Face of Humanity, Marca Huasi, Peru by Jerry Wills
Back issues sold out
---

Issue #8 – August/September, 1998
Tantric Sex God of India
An extract from Peter Holt's new book: Stars of India – Travels in Search of Astrologers and Fortune Tellers.
Mysterious Fogous of Cornwall
Andy Norfolk examines the underground chambers which only exist in the southwestern tip of England.
Stone Museum of Latvia
Valters Grivins reports on a sacred site in the Balkans.
Dancing With Death in the Amazon Jungle
A New Jersey couple's experience with ayahuasca, the mind-expanding sacred medicine of Peruvian shamans.
Martin Gray's Pilgrimage Diary
Another update from his current sacred journey through Latin America.
America's Stonehenge
Pat Hughes explores a megalithic site in New Hampshire, aligned to the solstices, equinoxes and much more.
Book Reviews
The Practical Nomad, How to Travel Around the World by Edward Hasbrouck, and
Stonehenge, the Secret of the Solstice by Terence Meaden
Back issue price (including shipping) $9.97


---

Issue #9 – October/November 1998
Shamanic Experience on Machu Picchu
The first in a series of articles about the "Sacred Mysteries of Peru" tour hosted by Power Trips describes an evening ceremony performed by an Andian shaman.
Holy Wells of Cornwall
Cheryl Straffon reports that the spirit of the Goddess can still be found where believers seek healing and divination.
Cozumel, Playground of the Goddess
Harriet Hamilton visits the tropical Mexican island paradise where Mayan women once paid homage to Ixchel.
The Sacred Sites of Graceful Assisi
Finding serenity in the town made famous by Saint Francis.
Spiritual Encounter in Escalante Canyon
A hiker's tale of a mysterious grotto on the Colorado Plateau area of southern Utah.
Stein Valley Rock Paintings
For 5,000 years this pristine wilderness in southwest British Columbia was a "university" where First Nations youth went on vision quests.
Lost Civilizations of the Incas and Andes
A Florida museum exhibits mysteries from ancient Peru.
Book Reviews
Overshoot by Mona Clee, and Arthur's Camlan – a guide to King Arthur's 6th century battle against Medrawt and to walks in magnificent Mawddwy, and Camlan – the True Story? by Laurence Main.
PLUS: Martin Gray's Pilgrimage Journal and news about transformational tours you can join.
Back issue price (including shipping) $9.97


---

Issue #10 – December/January 1999
Earth Mother Temple in Peru's Sacred Valley
"Pisac was the most moving sacred place I've ever experienced" says Robert Scheer about his recent "Sacred Mysteries of Peru" Tour.
Women's Midlife Mystery Villa in Pompeii
Dr. Shakira Khan leads you through a Dance of Divinity, illustrated by frescoes that were hidden for 1,900 years.
How to Make Contact With Elemental Beings
Tanis Helliwell, author of Summer with the Leprechauns, reveals her encounters with elemental beings in Canada and Japan, and offers advice on how you can see them too!
Ancient Stones of Pembrokeshire
Exploring prehistoric monuments in the Preseli Mountains of western Wales, source of the Stonehenge bluestones.
Seeking Artemis in Ephesus
Mary Ann Moore's celebration of the many forms of the Goddess, during a trek across Turkey.
Enchanted Glastonbury Tor
Martin Gray's impressions of one of Earth's most important pilgrimage destinations.

A ten-year-old boy describes how he was "zapped" by ancient stones in Scotland!

Book Review
Atlas of Holy Places and Sacred Sites by Colin Wilson
PLUS: Martin Gray's Pilgrimage Journal and news about transformational tours you can join.
Back issue price (including shipping) $9.97


---
Issue #11 – February/March 1999
Temple of Hathor at Dendera, Egypt
Lauren O. Thyme and her group found themselves weeping and laughing with joy from the gentle, harmonious Lemurian energy they found.
Haunted Clifford's Tower, York
Diane Goldberg reveals the chilling connection between her visit to Clifford's Tower and an event in 1190.
Inter-Dimensional Doorway at Lake Titicaca
In July, Robert Scheer was taken to a remote location, feared by locals, where mysterious disappearances have occurred and strange sounds have been heard.
Secrets of the Sphinx and Pyramids
Bravely "bending" the rules allowed Dr. Susan Gregg to experience amazing discoveries near Cairo, Egypt.
Island Home of Fog Woman
Goldstream Provincial Park, near Victoria BC, abounds with eagles, salmon and First Nation Legends.
Pyramids of Southwestern Kansas
Sacred El Quartelejo was once the pueblo home of immigrants from Taos, New Mexico.
Visions of the Goddess from World Famous Photographer
Courtney Milne and his partner Sherrill Miller's new book is devoted to rediscovering the feminine spirit of nature.
PLUS:
A Guide to Khmer Temples in Thailand and Laos, as well as Transformational Tour News and Martin Gray's Places of Peace and Power.
Back issue price (including shipping) $9.97




---
Issue #12 – April/May 1999
How To Experience The August 11, 1999 Total Solar Eclipse in England Without Harming Sacred Sites
Andy Norfolk, one of the founders of the Cornish Earth Mysteries Group, reports how elemental beings have been enlisted to help protect Cornish sites from the coming invasion.
Crop Circles
June Mewhort describes the magic messages contained in English farm fields.
Duloe, Cheesewring and the Hurlers
Lauren O. Thyme received a life-changing message when she visited stone circles in the southwest of England.
Curse of Clava Cairns
A visitor to an ancient site in Scotland reveals how he was "cursed" after taking a stone away, and "cured" as soon as he returned it!
Whitby Abbey, Yorkshire – Birthplace of Easter
In 664, under female leadership, the Synod of Whitby decided that a nature-based method would determine when Easter is celebrated.
Secrets of the Goddess Found at West Kennet
Terence Meaden reveals his recent discovery of carvings linked to 5k000 year-old Spring fertility celebrations.
The Return of Martin Gray
The author of "Places of Peace and Power" is safely home from his pilgrimage to Latin America.
The Avebury Cycle
Michael Dames has discovered strong evidence that England's largest stone circle was erected to worship the Great Goddess.
Atlantis in Wisconsin
Startling finds in a lake in southern Wisconsin challenge traditional beliefs about the history of civilization.
PLUS: Transformational Travel News, letters to the editor and much more…
Back issue price (including shipping) $9.97



---
Issue #13 – June/July 1999 (the last issue published)
SEDONA ~ Amazing Energy in the Arizona Desert
Power Trips investigated the legendary vortex energy and found that it is real.
Spirits of Oak Creek Canyon
Bernyce Barlow reveals a strong Native American presence in one of the most beautiful parts of Sedona.
Cathedral Rock's Nurturing Yin Energy
Understanding the gentle, feminine energy at Sedona's most powerful vortex.
A Lemurian Vision in Boynton Canyon
Mark Amaru Pinkham discovered Sedona's link to the lost Pacific continent of Mu.
Powerful, Endangered Rachel's Knoll
An 88-year-old woman's struggle to keep a sacred site free from commercial development.
Walking the Sedona Labyrinth
Mary Johnson looked for answers by walking its undulating pathways.
Cliff Dwelling Ghost Portal
On a sandstone cliff among ancient rock paintings is a doorway described as leading to the spirit world.
PLUS: Transformational Travel News, the world's smallest, lightest 35mm zoom camera and much more…
Back issue price (including shipping) $9.97




Robert Scheer's spiritual travel articles are online at http://robertscheer.net/