We Will Build A Successful Website For You!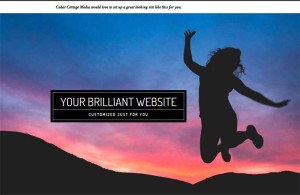 We have been creating successful websites for more than 15 years for clients near and far – from Vancouver to New York.
Here's what makes us different – we believe a good website doesn't make people say: "That's really creative." Instead, it makes people say: "I want what they're selling." We want to help you create new customers and generate more sales.
Complete custom multi-page website with blog: $1497
Keyword and competition analysis and recommendations
Your own domain (pending availability). For example: YourBusiness.com
Your own hosting account with CPanel and FTP access
WordPress content management system installation
Recommended theme customized and plug-ins installed
Professional copywriting or editing of your text
Includes spectacular high-resolution photos
We PhotoShop and optimize your supplied pictures
Tutorial instruction so you can do blogging
Includes Offline Search Engine Optimization*
Gain top organic search rankings for your products / services / keywords
Enjoy a dramatic increase in targeted traffic from people who are already interested
Use of only search engine approved 'white hat' methods following strict quality control guidelines
Get local, national, or international traffic, whichever you need
Long lasting, stable results
You'll be listed and linked on over 1,000 high quality websites
Listings in blogs related to your business
You'll be listed in business directories
Listings in all major search engines (Google, Yahoo, Bing) and 300 minor search engines
You'll be listed in social networking sites and business article sites
Listings in informational websites related to your business
Yours will be the brand people remember, and your credibility will increase
Almost all of your pages, images, products and services will show up in search results
We send you monthly reports on your progress and links
*Search engine optimization package included for one year.